Use Guide for Freshmen
Center for Information Technologies and Networks plans, designs, manages and operates educational terminal rooms (PC rooms), networks of University, information systems, and so on.
Though we are working a lot places where students can't see directly, we provide below information about areas directly related to students.
1. Location
Center for Information Technologiesand Networks (CITN) is located almost in the center of campus next to University Library.
Other than CITN building, educational terminal rooms (PC rooms) are located as in University Library and other places. So please note when you attend the class at the first time.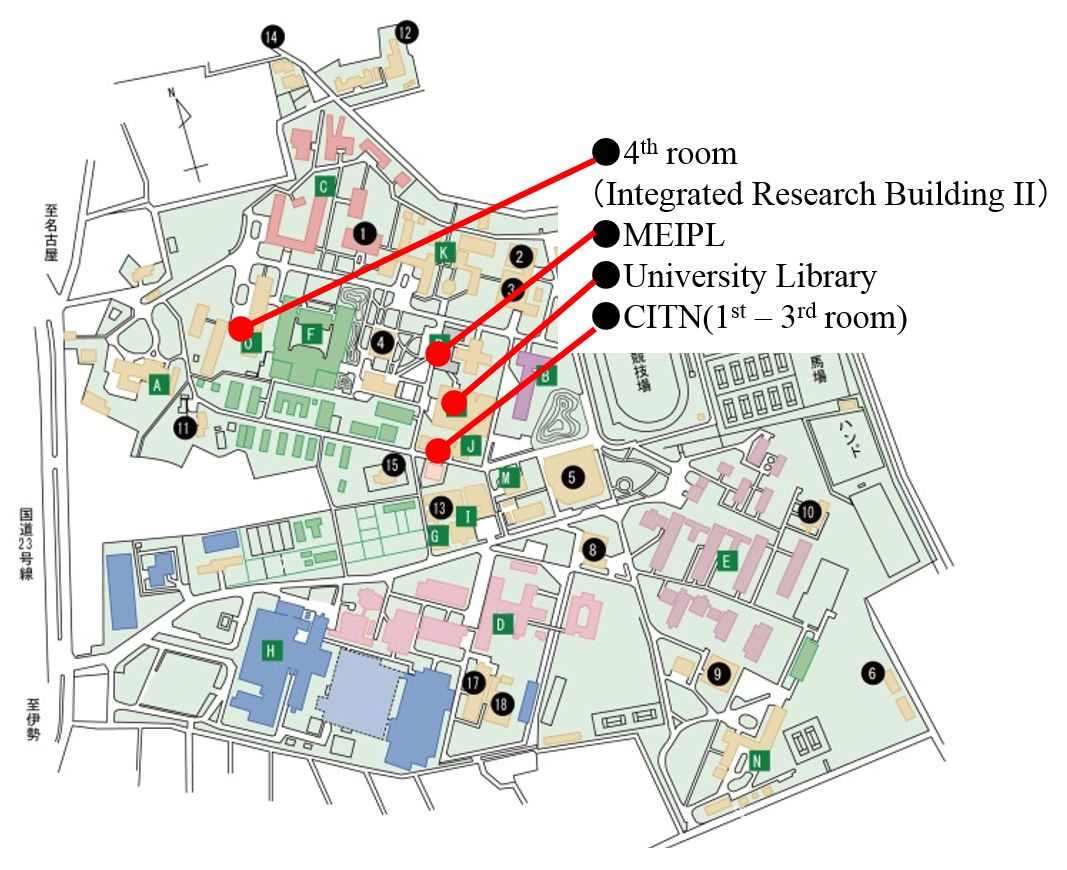 2. Unified-account
This is a combination of user ID and password for logging in to use some systems.
Freshmen will be distributed a "notification of Unified-account" at guidance.
If you forget your password, please inquire at the service terminal located in front of the office in CITN. (Don't forget your student ID card.)
If you'll use the computer system for classes, you should know your password, or you won't be able to attend your class, so please note it.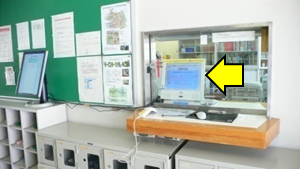 3. Educational Terminal Room (PC Room)
1st - 3rd rooms are in CITN Building, 4th room on the 1st floor of Integrated Center for Education Research and Practice Building.
Moreover, there are some PCs in the University Library and the Mie Environmental & Information Platform with the same specification as those in educational terminal rooms.
There are 310 PCs.
These rooms are available besides the time of classes, so please use for self-study.
You need the Unified-account for using these rooms.
We're open 8:40 till 20:50 on weekdays.
We're closed on weekends and holidays, but you can use terminals in the University Library on these days.
We're open during vacation except Obon and year end and New Year.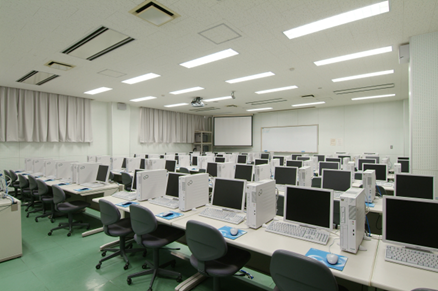 4. Mobile Information Guide System
This system provides notice about cancellation of lectures and other information.
You can access it from your cell phone or PC.
This information is indicated on the Bulletin Board System on campus.
(*Some information isn't indicated, so you need to confirm on the bulletin boards in faculties and departments.)
If you want to access by your cell phone or PC then please input "http://k.cc.mie-u.ac.jp" or read the QR code below.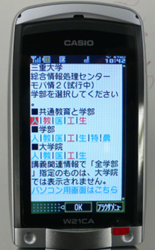 5. Mobile LAN
Mobile LAN is a wireless LAN for portable PCs (there is also cable connection type).
Most classrooms on campus are in area covered by 381 access points.
Moreover, you can use it in public spaces such as libraries, co-op buildings (cafeterias), Suiryo Kaikan, Auditorium, gymnasiums, conference rooms, club activity buildings and so on.
Please see the homepage of CITN for the detail about method to connect.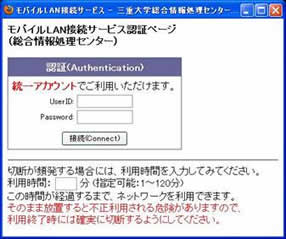 6. Students' Mail System
We are issuing mail addresses to all students. (This system is based on Gmail by google co.,Ltd.)
Your mail address is "student ID@m.mie-u.ac.jp".
This address is used as an official mail addresses for notification from University.
You need the Unified-account for using this system.
It is convenient to automatically forward to your cell phone or make settings for your smartphone's mail application.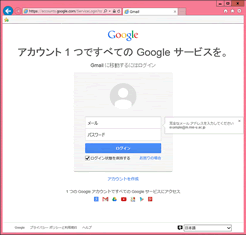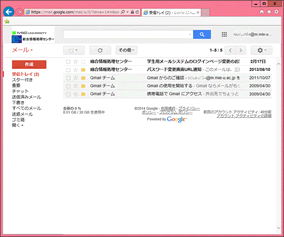 7. Secure VPN Connection Service
This is a service for connecting to the campus network from your home.
Though some university systems are accessible only on campus, you can access to most systems from off campus, such as your home, using this service.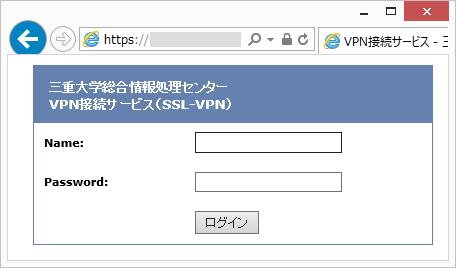 8. Educational LAN
PCs in public spaces or PC rooms possessed by faculties or departments are connected to Educational LAN.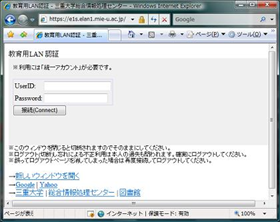 9. E-learning Systems
Mie University Moodle
This is an e-learning system used by some classes.
This system prepares functions such as downloading texts,questionnaires, quizzes, BBS and so on for each class.
You can use it from your home, for class preparation and review.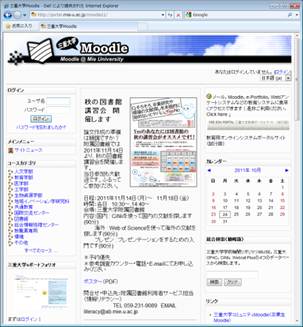 10. Offer of Site License Software
Members of Mie University can use Microsoft Office 365 ProPlus (You can use it in your own PC. It's also offered as pre-installed software on PCs purchased by freshmen at the University Co-op.)
Moreover, we offer special software for research to laboratories: SAS, SPSS, Matlab, Mathematica, SolidWorks, antivirus softwares, etc.
11. GakuNin Related Services
Academic Access Management Federation in Japan (GakuNin) is a project which Mie University is joining in which research laboratories and some service providers unite access management.
DreamSpark by Microsoft co., Ltd. is one of services of GakuNin, and students can get development software such as Visual Studio Professional and so on using this service and the Unified-account.